MacBook Air LCD Repair
The MacBook Air has the LCD panel built into the back housing. This makes it very difficult to replace just one component on this display. Most shops do not have the capability to replace just the broken component, and end up having to replace the entire screen assembly. We are one of the few shops that offer MacBook Air LCD only replacement for a fraction of the cost of replacing the entire display.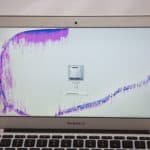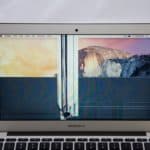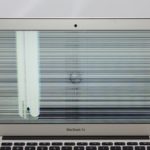 We offer screen repair for both the 11″ and 13″ MacBook Airs. Our pricing is a flat fee, so regardless of the model year, we can replace the LCD on a 11″ MacBook Air for $200 and the LCD on an 13″ MacBook Air .Our service includes replacing your cracked or broken LCD with a brand new panel. You can click on the images below to see some examples of MacBook Airs we have repaired.
MacBook Air Backlight Repair
When something hits the computer from the back, sometimes the backlight gets damaged as well as the LCD. Normally we can just replace the LCD and the backlight issues are purely cosmetic. As you can see in the picture below, a damaged backlight usually causes white spots on the LCD. Normally this white spot is only where the impact point is. So if the computer got hit from the back or front hard enough to damage the backlight, we can either replace the entire screen assembly, or just replace the LCD and ignore the cosmetic white spot.
One Stop Solutions For Reliable Apple Products Repair Services
Apple Repairs Centre provide expert Apple Laptop repair and support services for business and private Mac users throughout the Mumbai. Technical know-how is paramount to our service personnel and our goal is to perfect the experience Mac users obtain from our professional yet low-cost Apple Mac repair services in Mumbai……Chembur
For Our Quick Services and Support Just Call Us  970 252 5364, 9820158012
You Can visit Our Service Stations : Office No. 4, Sukh Sagar CHS, Near Akruti Star, MIDC, Andheri East, Mumbai -400093